BEST
INFERTILITY
CLINIC IN DELHI
Without a doubt, becoming a parent is the greatest joy that every Human being has in his/her life. Rightly So, bearing a Child is helping Humanity and Life progress. That being said, every Human being has a Biological Clock to welcome a child in the family. The Scientific fact is that Egg Count in Women and Sperm Quality in Men reduces with age. Late Marriages, Stressful Work life and an Unhealthy Lifestyle has led to a rise infertility issues in the past two decades. Medical ailments like Diabetes, Obesity and Chromosomal complications and abnormalities have only compounded the problems of infertility issues.
Giving Birth is the greatest Joy of Mankind and our First Infertility clinic in Noida was set with a Mission of "Giving Birth to Hope and Joy". Over the years, we feel privileged to have helped countless married Couple's people with infertility problems welcome a new life and become happy parents. We feel Humbled that our efforts and more importantly the Trust from Couples having infertility problems have made us as one of the preferred infertility clinics in Delhi & NCR. Headed by Dr Mona Dahiya, a globally acclaimed infertility expert, we have 5 Infertility Centres in India spread across, Noida, Delhi & Gurgaon.
We are one of the most Trusted Infertility clinics in India and recognized for World Class Facilities and more importantly a Personalized Treatment Protocol for individualized Treatment. Little wonder, we have helped over 5000 Infertile Couples from India and Other Countries become proud parents. We started with our First Infertility Clinic in Noida in the year 2016 and within a span of 5 years we now have infertility clinics in Noida, Delhi and Gurgaon. We feel humbled that Little Angel IVF has been consistently ranked among the best IVF clinics in India based on Patient Reviews and the Highest Infertility Success rate

WORLD CLASS INFERTILITY TREATMENT OPTIONS
Ovulation Testing for Blocked Fallopian Tubes.
Gamete Intrafallopian Transfer (GIFT)
IUI (intra uterine insemination Treatment.
IVF (In Vitro Fertilization) with Low AMH
Mini Stimulation IVF/Mini IVF
Egg Freezing & Embryo Freezing.
Egg Donation & Donor Sperms.
Genetic Testing before Infertility.
Intracytoplasmic Sperm Injection (ICSI)
Polycystic Ovary Syndrome (PCOS)
Premature Ovarian Failure.
Round Spermatid Nucleus Injection (ROSNI)
Semen Analysis (Sperm Count & Motility)
Superovulation: Stimulation of the ovaries
Tubal Ligation & Zygote Intrafallopian Transfer (ZIFT)
Follicle Stimulating Hormones (FSH).
Infertility for COVID Patients.
Male Infertility Treatment (PESA/TESA)
WORLD FAMOUS IVF & INFERTILITY EXPERT:
Dr. MONA DAHIYA
We are Dedicated to helping Couples conceive through infertility treatment procedures like IVF, IUI, ICSI or for that matter infertility medicines to help conceive naturally. Our Core objective is to help Married couples facing unexplained infertility issues through customized infertility techniques based on individual Infertility History and Infertility Tests.  The process of IVF is explained clearly and all the infertility procedures are aligned to the requirements of infertile patients.
All of our Infertility Clinics in Noida, Gurgaon and Delhi are committed to guidelines set by Indian Fertility Society www.indianfertilitysociety.org & Indian Society for the Study of Reproduction & Fertility www.issrf.org. Our Infertility Centres in Delhi & NCR offer a complete range of infertility techniques like IVF, ICSI, IUI, Blastocyst culture, Donor program, Egg Donation, Sperm Donation, Laser Assisted Hatching, PCOD, laparoscopy and hysteroscopy. We have always been recognized as the Best infertility Clinic in Noida with an enviable track record of the Highest rate of Pregnancy through IVF.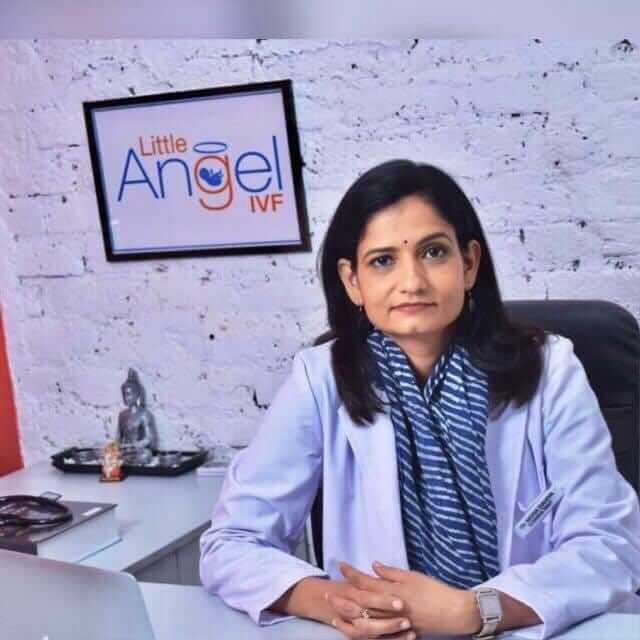 World Renowned Infertility Expert with 500+ Speaker Sessions.
5000 + Successful Pregnancies with the Highest Success Rate.
20 Years + of Global Experience: India, USA, Europe, Singapore.
M.B.B.S (Lady Hardinge Medical College, Delhi University).
M.D & Residency (Maulana Azad Medical College, Delhi University).
IVF Super Specialization (Singapore General Hospital).
100 + Publications in National & International Journals.
Rated as one of the Best IVF Doctors in India.
Awarded as one of the Best Infertility Specialist in the World.
Founder of Little Angel IVF Clinic: Delhi, Gurgaon &Noida.
We can Help you realize your Dream to Start a Family.