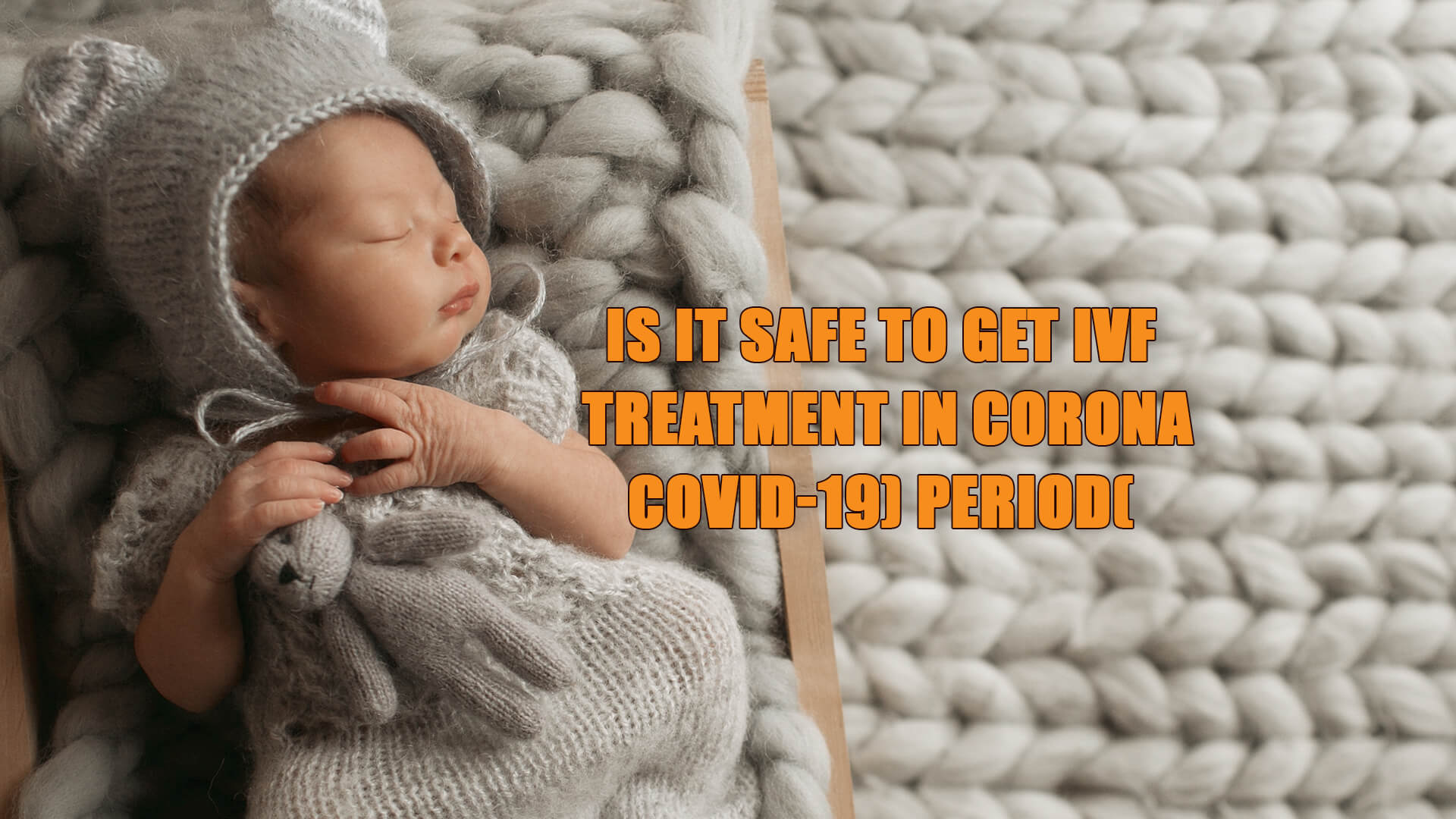 Is It Safe To Get IVF Treatment In Covid-19 Period?
Should we go for IVF Treatment In Corona? A lot of people ask. IVF is a process which helps infertile couples to conceive if they are unable to conceive naturally. It is estimated that India has one of the largest populations of nearly 30 million infertile couples. Since the start of the corona virus pandemic this year, there is a lot of confusion among these couples. IVF and fertility treatments are elective procedures thereby meaning that there is no emergency deadline to carry out these procedures. This poses a question, "How safe is it to undergo IVF or fertility treatment during the corona virus pandemic? Should one wait or go ahead?"
Though IVF is a planned procedure and there is no dire emergency, yet couples in whom the wife has a low egg reserve or those in whom the wife has cancer and fertility preservation or egg freezing has to be done immediately, should not wait long. Moreover, with no vaccine or drug for the treatment of COVID-19 as of now, makes the situation more challenging. Many couples posed the question, "How long should we wait?" Most couples seeking Infertility treatment (IUI/IVF) are reaching out to us with the following three Key Questions:
What is the Fertility Treatment during COVID-19?
Dr Mona Dahiya of Little Angel IVF, widely considered as the Best IVF Clinic in India gives clarity about IVF treatment in Corona Period. During the complete lockdown, Dr Mona Dahiya had completely stopped all the fertility treatments as per the directive of the IMCR Guidelines to avoid elective surgery/treatments. However, during the pandemic Dr Mona Dahiya has helped Thousands of Couples from India and Abroad seeking IVF treatment clarity through online Fertility consultations. Since the process of unlock-down has started, most IVF Clinics in India have restarted fertility treatments. But it is very important that IVF Centers in India must take the utmost precautions as defined by the national and international guidelines by WHO and various fertility societies. Little Angel IVF adheres to the following 5 Point Checklist to ensure 100% Safety for Couples and IVF Staff.
Firstly, all couples are counselled about the Risks and measures to be undertaken before the start of the IVF procedure through Online Consultation.
Triage is done before Physical appointments with detailed history and enquiry made of any symptoms.
During the Clinic Visit, Strict Social distancing/Physical Distancing along with Safety Protocols of Sanitization and Body hygiene measures are followed.
Only one attendant per patient is allowed and appointments are scheduled strictly according to availability of slots to avoid any overcrowding.
All Couples have to undergo COVID-19 tests before the Start of the IVF Treatment.
What you need to Know about IVF in this Corona Pandemic?
 According to Dr Mona Dahiya, every IVF Doctor in India must undertake the above lifesaving modifications for IVF treatment during COVID-19. Little Angel IVF was the among the first IVF Clinics in India to make the procedure of IVF
100% Patient friendly.
100% Safe.
The health and safety of Infertility patients is of utmost priority for Little Angel IVF. We have made Trust worthy Changes in Clinic Set Up and Functioning of the Staff to avoid, minimize and eliminate any risk of infection. Our COVID-19 Advisory, Strict Corona fertility measures and COVID IVF Protocols have helped countless infertile couples become proud parents.
Our Advice to Infertility couples who are seeking IVF during the Pandemic is to check and confirm the following guidelines while visiting any IVF Clinic or IVF center.
Reduce the number of visits and Avoid exposure: Virtual online consultations are the best means to help you minimize travel and 0% contact, thereby having 0% risk of getting infected. This ensures you are "Treatment Ready" and fully aware of the IVF process regarding the tests and planning of the procedure.
Online information and counselling: We provide online information via various videos and telephonic consultations to brief you about the Do's and Don'ts and financial counselling. This helps in limiting the physical visits and making the infertility treatment 100% Safe during Covid-19.
Laboratory measures, Social Distancing and PPE: It is imperative that the Strictest measures are taken in the IVF Laboratory during handling and freezing of embryos. Ensuring social distancing in the OPD and use of PPE KITS in the OT are absolutely must to ensure safety of IVF patients. These are Non-Negotiables at Little Angel IVF.
Strict Screening measures: All couples must be screened for COVID 19

Before Egg retrieval and Sperm Retrieval and
Before embryo transfer.
Can you still do IVF during the Corona virus Pandemic?
The corona virus has been found in the semen of some infected males and some studies have shown that pregnant women with COVID-19 infection transmitted it to their baby by vertical transmission. Before the start of IVF both the husband and wife are tested for corona and the test is repeated just before egg pick up to make sure there is no infection. Among the couples consulting us, 1% were found to be infected when they were tested by us. In such a situation, the procedure was postponed till they recovered fully. Strict measures are taken inside the OT and all the embryos are frozen in separate cryocans.
With all the special precautions, the IVF procedures carried out at Little Angel IVF are the Safest. At Little Angel, Our Strict Protocols ensure that Patients are Free from infection from the Start till the end of the IVF Treatment. Dr Mona Dahiya gives Counselling to allay anxiety and offer all the support during this challenging time. Though the pandemic has had emotional and psychological implications, yet we at Little Angel IVF aim to make your IVF and fertility journey as smooth as possible.
Couples who had to Postpone their Infertility Treatment on account of the Corona virus Pandemic can now have Safe IVF Treatment by visiting the best IVF Clinic and booking an Online Consultation with Dr Mona Dahiya to start their journey of Parenthood.
You Can be sure with Little Angel IVF as we take Pride in following 100% IVF COVID-19 Guidelines issued by the Government of India.